肝好的人,生活一定神彩飛揚;肝不好人,如生活黑色鏈獄中
ARISONA HEALTH OF USA INC. 臨床自然醫學醫師研發團隊;黃士賓博士、張家瑞醫師、陳裕三醫師表示....
從臨床自然醫學看肝臟病變
一.肝臟病變三部曲
1.單純的脂肪變性 (肝細胞脂肪堆積)
2.脂肪性肝炎(伴隨發炎和壞死)
3.最嚴重的肝纖維化及肝硬化
二.造成肝臟病變常見的原因
肥胖、血脂肪過多、糖尿病、酗酒、藥物(例如:類固醇)、病毒、熬夜及不明原因等。
三.肝臟病變常見的症狀
食慾減退、腹脹、嘔吐、噁心、右上腹壓迫感或 脹滿感、或全身倦怠、黃疸。
四.肝臟病變的治療
只要去除可改善的原因,就可以改善肝臟病變。所以若因肥胖或飲食不節制而引起的脂 肪肝,唯有靠調整飲食習慣、多運動等才能改善。酗酒引起脂肪肝與肝硬化就要戒酒。病毒性肝炎造成的脂肪肝與肝硬化就需要抗病毒藥與干擾素的治療。胰島素阻抗與糖尿病造成的脂肪肝就需要改善胰島素阻抗。
五,如何預防肝臟病變
1.規律生活,避免熬夜。
2.充分休息及睡眠。
3.均衡飲食,多吃蔬菜水果,少吃油膩食物,例如:油炸食物、動物的內臟、豬皮、雞 皮、鴨皮等高膽固醇食物。
4.避免酗酒及暴飲暴食。
5.定期接受追蹤檢查。
6.保持輕鬆心情,每日作適量運動。
7.高血脂病人除依醫師指示服藥,更需要控制飲食,避免高脂肪類食物的攝食。
8.糖尿病的控制,請依循營養師及醫師之指導。
醫師建議適當的選用,調養肝代謝化學酒精毒素的,養肝天然植物多結構胜肽,有助調理清除肝臟與脾胃累積的毒素與濁氣,有助這些毒素與濁氣從身體的大便、小便與汗液排出體外,進而逆轉肝硬化與脂肪肝的產生,加速肝臟排毒的功能,改善食慾、腹脹、全身倦怠與黃疸。
養肝天然植物多結構胜肽,可選用:枳椇子Kenponashi、橘皮陳皮Orange peel、芍藥Paeonia、丹參Salvia、枸杞子Lycii Fructus、茯苓Poria、當歸Angelica、肉桂CINNAMON、藿香Huoxiang ....等多種天然植物萃取植物胺基酸、蛋白胜肽做調理。
ARISONA HEALTH OF USA INC. 臨床自然醫學醫師研發團隊;
張家瑞醫師/陳裕三醫師/黃士賓醫師提供。
Those with good livers are spirited and look sharp; those with faulty livers go through life as if in a dark prison cell.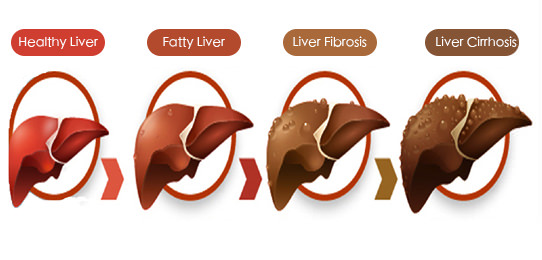 ARISONA HEALTH OF USA INC. Dr. Huang Shih-pin, of the Nantou Hospital Clinical Naturopathic Medicine R & D Team of Physicians, indicates that…
Observing hepatic pathological changes from the standpoint of clinical naturopathic medicine:
I. Three stages of hepatic pathological changes:
1. Simple changes in fatty liver (accumulation of fat in liver stem cells); 2.hepatitis; (accompanying inflammation and damaged or dead cells); 3. hepatic fibrosis, and cirrhosis, the most serious.
II. Common causes:
Obesity, too much cholesterol in the blood, diabetes, alcoholism, drugs (e.g., steroids) , viruses, all-nighters, and unknown reasons.
III. Common symptoms:
Loss of appetite, distended stomach, vomiting, nausea, feeling of pressure or fullness in the upper right region of the stomach, feeling tired out, jaundice.
IV. Treatments:
Only by eliminating causes, can we alleviate hepatic pathological changes. Hence, it is necessary to increase exercise, and regulate eating habits to curb fatty livers brought about by obesity or uncontrolled craving food. Only by going cold turkey can fatty liver and cirrhosis due to alcoholism be treated.
Antiviral drugs and interferon are required treatments for virus-induced hepatitis that brings about fatty liver and cirrhosis. Fatty livers caused by insulin resistance and diabetes require reduction of insulin resistance.
V. How to prevent hepatic pathological changes
1. Lead a disciplined life. Avoid burning the midnight oil.
2. Get sufficient rest; get enough sleep.
3. Eat in moderation. Consume plenty of fruits and vegetables. Cut back on greasy food and high-cholesterol food such as deep-fried food, internal organs of animals, pork rind, and chicken and duck skin.
4. Avoid abusing alcohol, and binge eating and drinking.
5. Do periodic follow-ups and check-ups.
6. Maintain a relaxed mood, do moderate exercises on a daily basis.
7. In addition to following instructions of physicians, it is even more important for patients down with hyperlipidemia to control appetites and avoid consumption of fatty foods.
8. To control diabetes, please follow the guidance provided by nutritionalists and physicians.
The team of physicians suggests suitable selection of complex peptides from natural plants to help regulate and rid the liver of accumulated toxins and stagnant vital energy; promote the excretion of toxins and stagnant vital energy through bowel movements, urination, and sweat; reverse the generation of fats in the liver; accelerate the liver's detox function; and reduce cravings for food, distended stomachs, tired-out feelings, and jaundice.
Selected contents for complex peptides from natural plants include:Kenponashi, Orange peel, Paeonia, Salvia, Lycii fructus, Poria,Angelica sinesis, Cinnamon, Agastache rugosa, and other amino acids and proteins extracted from natural plants.
ARISONA HEALTH OF USA INC.
Provided by Drs. Chang Jia-jui and Chen Yu-san,
the Clinical Naturopathic Medicine R&D Team of Physicians at the Yu Hsuan Group
Practice Clinic in Taichung, and Dr. Huang Shih-pin, of the Nantou Hospital